Colorado Ski Lodging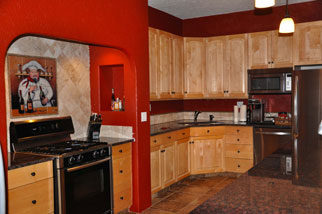 Kitchen
Colorado Ski Lodging's gourmet kitchen is fully equipped to accommodate up to 18 people. You should find everything you need, including 2 refrigerators, a commercial coffee maker, large spaghetti pots and a Vita-Mix blender/margarita maker.
Remember, we offer customized grocery service and delicious gourmet in-home meals in case you don't feel like shopping for groceries or cooking!
Love the house!

Have been running ski trips for years and this is one place to keep on your calender for a user friendly, large family and friend home get away. Love the house, the town of Frisco, and surrounding ski resorts.
~T.L.
Lansing, Illinois