Colorado Ski Lodging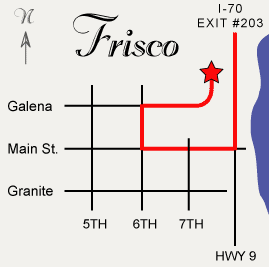 Directions from Denver
Interstate 70 West (approx. 75 miles)
Take Exit #203, follow roundabout onto HWY 9
At 4th stoplight (approx 1 mile), take a RIGHT onto MAIN STREET.
Go 2 blocks, take a RIGHT onto 6TH.
Go 1 block, take a RIGHT onto GALENA St.
Go 1 block to entry gate on your RIGHT.* (immediately following curve in road)
We are located at 200 North 7th Street, Frisco, Colorado 80443.
*NOTE: Our second driveway is closer to the lodge and is easier to use for luggage unloading.
Click here for a new page with a printer-friendly version of our directions.
One word says it all — AWESOME!

We were looking for a place that was in close proximity to a variety of winter activities and could also accommodate a large group ranging in age from 1 year to 50+ years. Our daughter and her family were the first ones there. When we asked what the house was like, our son-in-law responded "AWESOME!". That one word said it all. There was plenty of open space so that we could easily gather as a group, but there were also plenty of rooms so that anyone wishing a little peace and quiet could easily find it. The on-site amenities made sure that everyone, no matter what age, was ever going to be bored...unless they wanted to be!
~ Sandy
Barnard, Missouri