Colorado Ski Lodging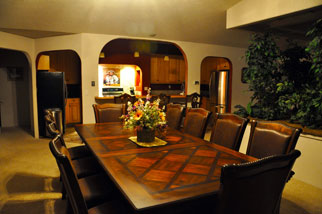 Dining Room
Colorado Ski Lodging's dining room and bar area flow together with the kitchen and main living room. There is seating for 20 people in the combined dining / bar area. 10 people at the dining table 10 people around the bar and breakfast bar area. A very relaxing place to gather for casual meals, cards and cocktails.
Hope to come again next year...

Third year renting the condo. New improvements have made it even nicer. The location makes a great central point to ski all of Summit County resorts. Handy to all of the shops and restaurants and shops in Frisco. Hope to rent again next year.
~ "Ski Dad"
Urbana, Ohio